Ceramic Tile
Material Description Offering high-definition beauty blended with simple maintenance and stain-resistance, ceramic tile is where design meets durability.
Water-Resistant
Glazed ceramic tile is stain-resistant, has as little as 0.6% water absorption rate, and is composed of natural mineral-rich clays.
Life-Proof
Ceramic is a durable, life-proof surface that's a snap to clean and healthy no VOCs!
Authentic Looks
Authentic looks that replicate stone, wood, or other favorite surfaces with the benefits of ceramic tile.
Featured products in ceramic
Brickwork
This twist on a trend favorite uses random shade variation and distressed edges to emulate brick traditionally found in historic metropolitan architecture and design. Brickwork is ideal for adding warmth, texture, and a historic feel to a room.
Severino
Taking its cue from the tumbling cliffs of the Amalfi Coast, Severino ceramic tile is a beautiful mix of travertine and marble looks designed to add visual warmth with its natural beauty. In four colors and eight versatile sizes for relaxed sophistication.
Natural Hues
For color options and versatility in design, no tile can outdo Natural Hues. Create customized murals, borders and patterns and choose from a smooth finish or two textured styles. Customize your design with this accommodating wall tile.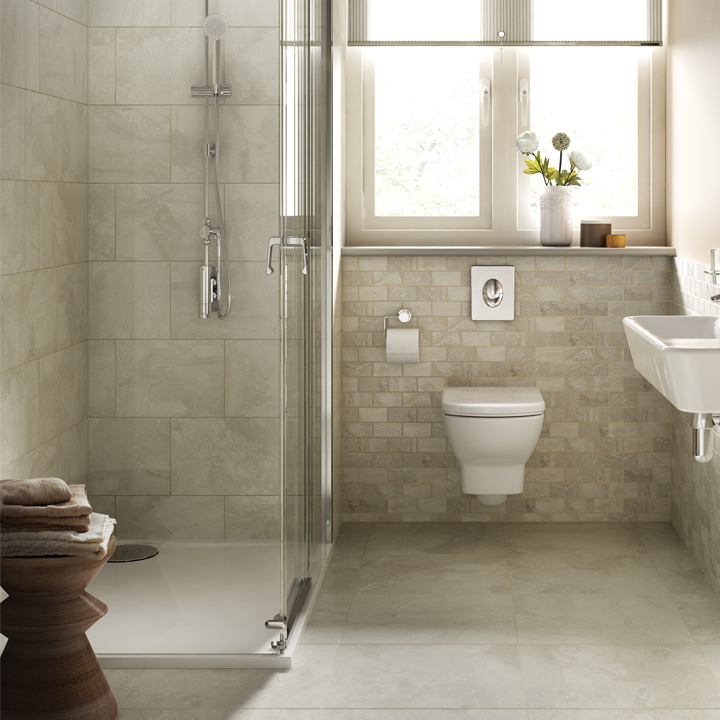 Marble Falls
The classic elegance of Marble Falls glazed ceramic tile rivals the exquisite details found in nature. Produced with Reveal Imaging technology, the crisp graphics and wide pattern variation with delicate veining will draw the eye again and again.
Rittenhouse Square
This series of striking, 3" x 6", matte and semi-gloss finish subway tiles includes everything from neutrals to brightly colored solids - colors designed to complement our popular wall and mosaic tile lines. Create exciting walls and backsplashes.
Go Back